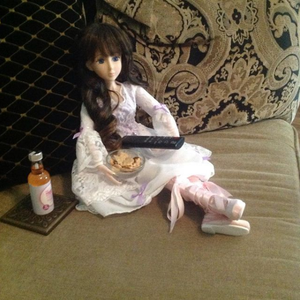 Five Fun Ballet Movies to Watch with Your MBD
Hello, ballerinas! This is Marie. If you love ballet as much as I do, you want it to be part of your whole life. No matter how many days I go to the studio, I just can't get enough ballet. When we're not dancing, my good friend Ballerina Bek and I spend many happy hours watching ballet!
I adore watching YouTube videos of the greatest ballerinas performing in Giselle or Swan Lake, and I can't count how many times I've watched past production of The Ballet Studio's Nutcracker! However, sometimes I feel like something more fanciful. Young ballerinas can nurture their love for ballet as soon as they start taking classes with fun ballet movies. These cartoons (well, mostly cartoons) were made for little girls, but big girls like us still love them!
There's no better movie-watching companion for a young ballerina than her My Ballerina Doll (MBD). Here is my list of five fun ballet movies to watch with your ballerina friends and dolls:
Barbie in the Nutcracker (2001)
Like My Ballerina Dolls, the Barbie feature-length film series began with The Nutcracker!  This CGI-animated film isn't just a cartoon version of The Nutcracker story. It's a magical new take on the ballet, brought to life by gorgeous animation.
One behind-the-scenes tidbit about this movie will fascinate baby ballerinas and continue to impress older dancers. The characters' dancing is actually the real movements of professional ballet dancers from the New York City Ballet, computer animated through motion capture imaging. Maria Kowroski provided Clara's dancing, and Charles Askegard performed the Prince's. Renowned ballet master Peter Martins choreographed the dancing! The effect is really impressive. It's beautifully supported by Tchaikovsky's iconic score as performed by the London Symphony Orchestra.
I love this movie's opening. It begins with little ballerina Kelly, struggling with a dance. I can relate to her frustration as she declares she can't do it. Luckily, big sister Barbie is there to cheer up the little bunhead with a magical story about Clara and her enchanting Christmas journey. Her journey includes the usual characters of Fritz, the Nutcracker, and the Mouse King, plus the twist of Drosselmeyer being Clara's globetrotting aunt. It doesn't have to be December for me to pull out my old DVD and watch this heartwarming film. It always reminds me of the excitement of my own Nutcracker ballet performances!
2. Barbie of Swan Lake (2003)
The Nutcracker is my favorite ballet, but Swan Lake is a close second! It's not surprising that the third Barbie movie was inspired by this other ballet. Like The Nutcracker, its music is by Piotr Ilyich Tchaikovsky, and the choreography was by Marius Petipa and Lev Ivanov.
Ballerina Bek remembers that this movie was her first introduction to Swan Lake. My first was wearing our Black Swan costume, but I love it, too. To this day, we both associate that very catchy theme for Odette's entrance in Act 4 with Barbie, since it's often cut from live ballet productions. The same movie magic brought beautiful dancers from New York City Ballet to life as Odette and company. This story is also told by Barbie to Kelly.
I love this whimsical take on the Swan Lake story. Instead of a flock of swan maidens, Odette (Barbie) is accompanied by adorable international children bewitched as a skunk, a fox, a porcupine, and other woodland creatures. She even befriends a beautiful fairy queen, a lovable troll, and an incorrigible unicorn! One of my favorite characters is Odile, Rothbart's obnoxious "black swan" daughter. In the ballet, did you ever wonder what Odile looks like when she isn't disguised as Odette? This movie gives you a hilarious answer! After you dance through this spectacular world of magic, swans, and ballet, you'll want to return again and again!
3. Barbie in the 12 Dancing Princesses (2006)
This movie isn't based on a ballet, but it captures the sheer joy of dancing! This was one of Ballerina Bek's favorite movies as a little girl, and I can't blame her. I think it's the sisters' matching dresses, each in a different color and with matching dancing shoes, that I love the most. Ballet is never actually mentioned. The story seems to be set a couple of centuries before modern ballet aesthetics, like pancake tutus and toe shoes, were developed. However, the princesses' colorful dancing shoes let them dance en pointe.
There is no ballet music in this movie, but some beautiful classical pieces take on new meaning as background music to the story. After you watch this movie, you'll forever associate Felix Mendelssohn's Symphony No. 4 with Barbie and her dancing sisters! The same amazing technology brings these royal dancers to life as they jeté, pirouette, and arabesque to save their father and the kingdom! A little pas de deux with a handsome young cobbler helps, too.
I love that this movie celebrates ballet's real-life magic of transportation. For so many people, it is a means of escape from life's troubles into a beautiful fantasyland. We ballet dancers create that magic for watchers, but we can enjoy the spell, too, whether we're dancing on a magical island, like the twelve princesses, or just going to the studio. Like Genevieve (Barbie), you can discover your own worth and bravery through dancing. Also, I can relate to how quickly the girls' shoes wear out!
4. Barbie in the Pink Shoes (2013)
You've probably heard of the famous British ballet movie The Red Shoes. It's one of the most famous dance movies of all time, but I'm not including it in the list. If you've ever seen it, you'll know why; it isn't very fun! Barbie did a fanciful play on the title by having the main character wear hot pink shoes. The stories aren't actually similar, but both celebrate the backstage life of a ballerina. The animation in this movie looks very different than the earlier Barbie movies. "Barbie in the Pink Shoes" is another movie which magically illustrates how ballet can take you to another world. 
Krystin (Barbie) lacks confidence in her dancing. She wants to do her own thing when performing, but she ends up just getting flustered. When she needs a new pair of shoes right before a performance, the only ones in her size are a pair of beautiful hot pink toe shoes. As soon as she puts them on, she and her best friend are transported into the world of Giselle. While every dancer wants to be the prima ballerina of her own ballet, Kristyn soon discovers that living in ballets can be dangerous! As she travels through Giselle, Swan Lake, and a fictional ballet about the Snow Queen which is similar to The Nutcracker, she must use her creativity and talent to save the day.
This is one of Ballerina Bek's favorite Barbie movies because she relates to Krystin's love for dancing her own way. Maybe you too have enjoyed the thrill of choreographing an original piece or just dancing "to the beat of your heart," to quote a song from this movie! This movie always reminds me that we don't all have to be the same type of dancer to be great. Don't try to be like that other girl at your studio. Show the world your unique talent!
5. Isabelle Dances Into the Spotlight (2014)
Barbie movies aren't the only fun ballet movies. American Girl made a ballerina-themed Doll of the Year in 2014, Isabelle, and this movie was a compilation of her three accompanying books. You don't have to have the American Girl Doll to appreciate Isabelle Dances Into the Spotlight. This live action movie is geared toward young ballerinas, but I think a dancer of any age will be inspired by it.
Both Ballerina Bek and I really relate to Isabelle's struggles in this movie. She loves dancing, but she sometimes wonders if she's good enough. When she relaxes, she dances more expressively than anyone else. However, the elusive pirouette continues to evade her as the show nears! Isabelle struggles with living in the shadow of her accomplished older sister, and a mean girl at class keeps knocking down her self-esteem. I know I can relate to Isabelle's joys and struggles in ballet.
I love that this movie's main events take place during the months leading up to The Nutcracker. As part of a prestigious arts school, Isabelle and her sister, Jade, are in a professional production of The Nutcracker, which stars their idol, Jackie Sanchez, played by professional ballerina Tanya Howard. From casting to costumes and backstage rivalry, this movie encapsulates all the magic and mayhem we dread and adore about Nutcracker season! 
I hope this inspires you to plan your own My Ballerina Doll (MBD) movie night! When you do, take pictures and tag us on social media for a chance to be featured. What ballet movies are your favorites? Tell us in the comments!
---